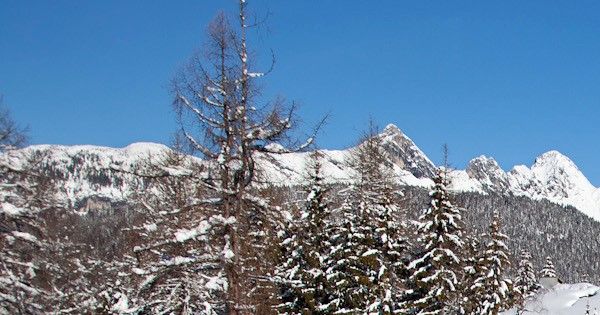 Included Services
Accommodation as booked
Board as booked

2 days, 3 days, 4 days, 6 days or 9 days lift pass Happy Ski Card


(value of lift pass up to 290)
Exceptions see booking process
Use of spa area (as per description)
Bathrobe hire
€15 massage voucher (as per description)
Welcome drink
Wifi
Safe (on the room)
Children's bed
Children's high chair
Parking spaces (upon availability)

Snow Guarantee

Nice-Price Guarantee
Location and Facilities
The friendly, 4-star Hotel Lärchenhof is located on a sunny high-plateau, approx. 700 m from the resort centre, and approx. 100 m from the ski area Geigenbühel. A ski bus stop, as well as access to a cross-country trail can be found also approx. 100 m away. The hotel offers a reception with lobby, lift, wifi (incl.), a dining room, lounge with open fireplace, various parlours and a children's playroom.
Additionally, there is a free spa area with indoor pool (open hours: 8 a.m. – 8 p.m.) and sauna complex (open hours: 4 – 8 p.m.) available to use. In the sauna area there is one sauna, a steam bath and infrared cabin. If paid for locally you can make use of the solarium, beauty farm, various massage treatments, and the medical spa "Lärchenhäusl" offers. As a special extra, every full payer receives a massage voucher, valued at €15 (only redeemable on massages, not transferable). At an extra charge, you can also participate in the toboggan evening with rest station. Free parking spaces can be found at the hotel.
Further, this pet-friendly hotel offers special services for dogs (possibly for a fee), including food and water bowls, blanket, sleeping facilities and on request a dog-sitter can be organised. Dogs are also permitted to stay alone in the rooms for a while. In the neighbouring resort Leutasch there is a dog training centre (Hundeschule Tirol) for single or group training, companion dog exam or hikes (upon availability). Further information about this offer and further offers for your dog can be enquired in resort. There you will also find recommendations on walking and hiking trails suitable for dogs.
Rooms
The cosy rooms all have a bath or shower/wc, cable TV, telephone, radio, sitting corner, mini bar (payable locally), hair drier, safe (incl.) and a balcony or terrace.
Board
Half-board PLUS is already included in the price and comprises a welcome cocktail, a rich breakfast buffet with cold and warm dishes, organic food corner, juice bar and freshly made egg dishes. In the afternoons there is cake and punch, and in the evenings a 5-course menu with choice of main dish and salad buffet is served. Once per week there is a gala dinner and Tyrolean evening on offer. A vegetarian menu option can be requested locally. Christmas and New Year's Eve dinners are also included in the price.
Available in the resort (for free)
Accommodation as booked
Board as booked
Use of spa area (as per description)
Bathrobe hire
€15 massage voucher (as per description)
Welcome drink
Wifi
Safe (on the room)
Children's bed
Children's high chair
Parking spaces (upon availability)
Payable at the resort
Tourist tax: approx. € 2,80 per person/nightKeycard: €2
Offers
All persons in the Single room, shower/wc, HB PLUS receive the following reduction: until (incl.) 5 years 25%
6-15 years 10%
16-18 years 5%
All persons in the Double room, shower/wc (26 m²), HB PLUS receive the following reduction: until (incl.) 5 years 25%
6-15 years 10%
16-18 years 5%
All persons in the Double room, shower/wc (35 m²), HB PLUS receive the following reduction: until (incl.) 5 years 25%
6-15 years 10%
16-18 years 5%
When accommodating 2 persons paying the full holiday price in a Double room/2 addl. beds, shower/wc (38 m²), HB PLUS, further holiday participants receive: until (incl.) 5 years 100%
6-11 years 50%
from 12 years 30%
When accommodating 2 persons paying the full holiday price in a Double room/2 addl. beds, shower/wc (50 m²), HB PLUS, further holiday participants receive: until (incl.) 5 years 100%
6-11 years 50%
from 12 years 30%
All persons in the Double room, shower/wc (38 m²), HB PLUS receive the following reduction: until (incl.) 5 years 25%
6-15 years 10%
16-18 years 5%
7 nights (all prices are per-person)