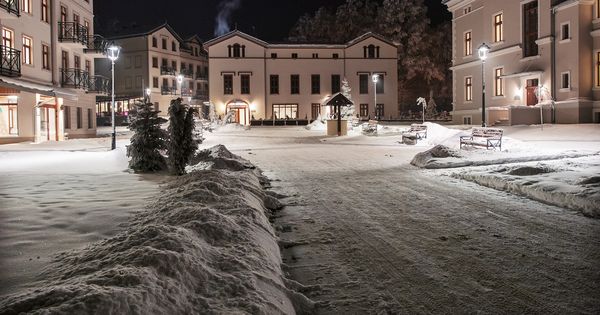 Included Services
Accommodation as booked
Board as booked
Use of spa area (as per description)
Use of fitness room
Bathrobe and slippers (to rent)
5% reduction on spa treatments
Welcome drink
Christmas and New Year's Eve menu
Wifi
Billiards
Nordic-Walking gear hire (upon availability)
Board games rental
Children's bed
Children's high chair
Parking spaces (upon availability)

Snow Guarantee

Nice-Price Guarantee
Location and Facilities
The comfortable 3 star Hotel Cottonina and Mineral Resort consists of 2 buildings and is situated approx. 5 km away from the resort centre of Bad Flinsberg. A free ski bus, as well as a hotel shuttle (for a fee) brings you to the around 3 km distant Bad Flinsberg lift. The attractive hotel offers a reception, wifi (incl.), lift, restaurant as well as a wine cellar and a ski and boot room.
Furthermore, the fitness room as well as the approx. 300 m² large spa area (8:00 – 22:00) with indoor pool, sauna, Finnish sauna (sauna area from 15:00 – 22:00), steam bath, infrared cabin, relaxation room, and outdoor jacuzzi are available to be enjoyed for free. The beauty centre, with diverse treatments, is also available to be used for a fee. Parking spaces are also free based on availability.
Rooms
The cosy rooms are furnished with a shower/wc, satellite TV, telephone, hair dryer and Wifi (incl.).
Board
The already included half board comes with a welcome drink, breakfast buffet, and a 3-course meal of your choice or buffet in the evening. Furthermore, 1 x per person/stay, you receive coffee/tea and cake for free (for stays starting from 6 nights). On Christmas and New Year's Eve, a special dinner will be served (incl.). Children's menus are also available on request and for a locally payable fee.
Available in the resort (for free)
Accommodation as booked
Board as booked
Use of spa area (as per description)
Use of fitness room
Bathrobe and slippers (to rent)
5% reduction on spa treatments
Welcome drink
Christmas and New Year's Eve menu
Wifi
Billiards
Nordic-Walking gear hire (upon availability)
Board games rental
Children's bed
Children's high chair
Parking spaces (upon availability)
Payable at the resort
Tourist tax: approx. zł 3,00 per person/night
Offers
When accommodating 2 persons paying the full holiday price in a Double room/addl. bed, shower/wc, HB, further holiday participants receive: until (incl.) 6 years 100%
7-14 years 50%
from 15 years 30%
7 nights (all prices are per-person)
| Date Of Arrival | Tue | Wed | Thu | Fri | Sat | Sun | Mon | Tue | Wed | Thu | Fri | Sat | Sun | Mon | Tue | Wed | Thu | Fri | Sat | Sun | Mon | Tue | Wed | Thu | Fri | Sat | Sun | Mon | Tue | Wed | Thu | Fri | Sat | Sun | Mon | Tue | Wed | Thu | Fri | Sat | Sun | Mon | Tue | Wed | Thu | Fri | Sat | Sun | Mon | Tue | Wed | Thu | Fri | Sat | Sun | Mon | Tue | Wed | Thu | Fri | Sat | Sun | Mon | Tue | Wed | Thu | Fri | Sat | Sun | Mon | Tue | Wed | Thu | Fri | Sat | Sun | Mon | Tue | Wed | Mon | Tue | Wed | Thu | Fri | Tue | Wed | Thu | Fri | Sat | Sun | Mon | Tue | Wed | Thu | Fri | Sat | Sun | Mon | Tue | Wed | Thu | Fri |
| --- | --- | --- | --- | --- | --- | --- | --- | --- | --- | --- | --- | --- | --- | --- | --- | --- | --- | --- | --- | --- | --- | --- | --- | --- | --- | --- | --- | --- | --- | --- | --- | --- | --- | --- | --- | --- | --- | --- | --- | --- | --- | --- | --- | --- | --- | --- | --- | --- | --- | --- | --- | --- | --- | --- | --- | --- | --- | --- | --- | --- | --- | --- | --- | --- | --- | --- | --- | --- | --- | --- | --- | --- | --- | --- | --- | --- | --- | --- | --- | --- | --- | --- | --- | --- | --- | --- | --- | --- | --- | --- | --- | --- | --- | --- | --- | --- | --- | --- | --- | --- | --- | --- |
| | | | | | | | | | | | | | | | | | | | | | | | | | | | | | | | | | | | | | | | | | | | | | | | | | | | | | | | | | | | | | | | | | | | | | | | | | | | | | | | | | | | | | | | | | | | | | | | | | | | | | | |
| occupied by 1 person | € 429 | € 429 | € 419 | € 419 | € 499 | € 509 | € 519 | € 529 | € 549 | € 559 | € 569 | € 569 | € 569 | € 569 | € 569 | € 569 | € 569 | € 569 | € 569 | € 569 | € 569 | € 569 | € 569 | € 569 | € 579 | € 579 | € 579 | € 579 | € 579 | € 579 | € 589 | € 589 | € 589 | € 589 | € 589 | € 589 | € 589 | € 589 | € 589 | € 589 | € 589 | € 589 | € 566 | € 566 | € 566 | € 566 | € 556 | € 556 | € 546 | € 527 | € 508 | € 498 | € 479 | € 459 | € 383 | € 383 | € 383 | € 383 | € 383 | € 383 | € 383 | € 383 | € 383 | € 383 | € 383 | € 383 | € 383 | € 383 | € 383 | € 383 | € 383 | € 383 | € 383 | € 383 | € 383 | € 383 | € 383 | € 383 | € 383 | € 585 | € 618 | € 622 | € 625 | € 589 | € 383 | € 383 | € 373 | € 373 | € 373 | € 373 | € 373 | € 373 | € 373 | € 373 | € 373 | € 373 | € 373 | € 373 | € 373 | € 373 | € 373 | € 373 |
| | | | | | | | | | | | | | | | | | | | | | | | | | | | | | | | | | | | | | | | | | | | | | | | | | | | | | | | | | | | | | | | | | | | | | | | | | | | | | | | | | | | | | | | | | | | | | | | | | | | | | | |
| occupied by 3 persons | € 299 | € 299 | € 289 | € 289 | € 349 | € 359 | € 369 | € 389 | € 399 | € 409 | € 419 | € 419 | € 419 | € 419 | € 419 | € 419 | € 419 | € 419 | € 419 | € 419 | € 429 | € 429 | € 429 | € 429 | € 429 | € 429 | € 429 | € 429 | € 429 | € 429 | € 439 | € 439 | € 439 | € 439 | € 439 | € 439 | € 439 | € 439 | € 439 | € 439 | € 439 | € 439 | € 422 | € 422 | € 422 | € 422 | € 422 | € 412 | € 402 | € 383 | € 373 | € 354 | € 335 | € 325 | € 268 | € 268 | € 268 | € 258 | € 258 | € 258 | € 258 | € 258 | € 258 | € 258 | € 258 | € 258 | € 258 | € 258 | € 258 | € 258 | € 258 | € 258 | € 258 | € 258 | € 258 | € 258 | € 258 | € 258 | € 268 | € 439 | € 471 | € 473 | € 476 | € 441 | € 258 | € 258 | € 258 | € 258 | € 258 | € 258 | € 258 | € 258 | € 258 | € 258 | € 258 | € 258 | € 258 | € 258 | € 258 | € 258 | € 258 | € 258 |
| occupied by 2 persons | € 299 | € 299 | € 289 | € 289 | € 349 | € 359 | € 369 | € 389 | € 399 | € 409 | € 419 | € 419 | € 419 | € 419 | € 419 | € 419 | € 419 | € 419 | € 419 | € 419 | € 429 | € 429 | € 429 | € 429 | € 429 | € 429 | € 429 | € 429 | € 429 | € 429 | € 439 | € 439 | € 439 | € 439 | € 439 | € 439 | € 439 | € 439 | € 439 | € 439 | € 439 | € 439 | € 422 | € 422 | € 422 | € 422 | € 422 | € 412 | € 402 | € 383 | € 373 | € 354 | € 335 | € 325 | € 268 | € 268 | € 268 | € 258 | € 258 | € 258 | € 258 | € 258 | € 258 | € 258 | € 258 | € 258 | € 258 | € 258 | € 258 | € 258 | € 258 | € 258 | € 258 | € 258 | € 258 | € 258 | € 258 | € 258 | € 268 | € 439 | € 471 | € 473 | € 476 | € 441 | € 258 | € 258 | € 258 | € 258 | € 258 | € 258 | € 258 | € 258 | € 258 | € 258 | € 258 | € 258 | € 258 | € 258 | € 258 | € 258 | € 258 | € 258 |
| | | | | | | | | | | | | | | | | | | | | | | | | | | | | | | | | | | | | | | | | | | | | | | | | | | | | | | | | | | | | | | | | | | | | | | | | | | | | | | | | | | | | | | | | | | | | | | | | | | | | | | |
| | | | | | | | | | | | | | | | | | | | | | | | | | | | | | | | | | | | | | | | | | | | | | | | | | | | | | | | | | | | | | | | | | | | | | | | | | | | | | | | | | | | | | | | | | | | | | | | | | | | | | | |