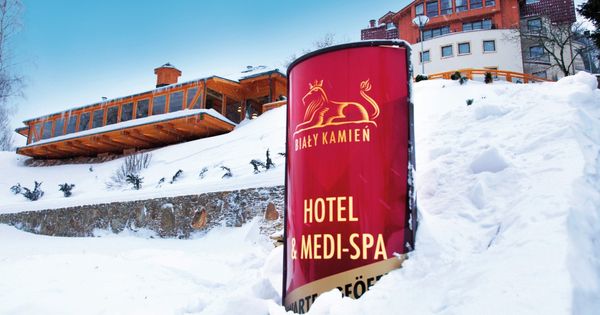 Included Services
Accommodation as booked
Board as booked
Use of spa area
Bathrobe hire (and slippers)
10 % discount on treatments in the beauty centre
Welcome drink
Wifi
Safe (on the room)
Children's bed
Children's high chair
Parking spaces

Snow Guarantee

Nice-Price Guarantee
Location and Facilities
The 3-star Hotel & Medi Spa Bialy Kamien lies in a picturesque location with view of the surrounding mountains, approx. 400 m from the centre of Świeradów-Zdrój (German: Bad Flinsberg). A public bus stops approx. 300 m away, the ski area Świeradów can be reached in around 2km. The hotel offers its own shuttle for a fee. The facilities of this accommodation include a lobby, reception, lift, Wifi (incl.), breakfast room, dining room, restaurant, bar, café, drinks and snack shop and a playroom.
The spa area measures approx. 1000 m² and can be used for free. It offers an indoor pool with wave making machine and aqua aerobics area, a children's pool with mini slide, Finnish sauna, steam room with aroma therapy as well as saline grotto, saline tepidarium with mini salt extraction, saline jacuzzi, ice igloo and outdoor jacuzzi. (Opening hours: Mon – Fri 08:00 – 22:00, Sun 08:00 – 20:00). The beauty center and massages can be used for fee, but you receive a 10 % discount. Cosmetic treatments above € 60, guests receive a € 10 discount. The hotel also has a ski and boot room and free-of-charge parking spaces.
Rooms
The cosy rooms offer a shower/wc, satellite TV, Wifi (incl.), mini bar (for a fee), seating corner, safe (incl.) and hair drier as well as partly a balcony or terrace..
Board
The holiday price includes half board consisting of a welcome drink, a breakfast buffet and a buffet in the evening.
Available in the resort (for free)
Accommodation as booked
Board as booked
Use of spa area
Bathrobe hire (and slippers)
10 % discount on treatments in the beauty centre
Welcome drink
Wifi
Safe (on the room)
Children's bed
Children's high chair
Parking spaces
Payable at the resort
Tourist tax: approx. € 0,89 per person/night
Offers
When accommodating 1 persons paying the full holiday price in a Single room/addl. bed, shower/wc, HB, further holiday participants receive: until (incl.) 4 years 100%
5-10 years 80%
11-16 years 60%
When accommodating 2 persons paying the full holiday price in a Double room/addl. bed, shower/wc, HB, further holiday participants receive: until (incl.) 4 years 100%
5-10 years 65%
from 11 years 40%
When accommodating 2 persons paying the full holiday price in a Family room, shower/wc, HB, further holiday participants receive: until (incl.) 4 years 100%
5-10 years 75%
from 11 years 50%
7 nights (all prices are per-person)
| Date Of Arrival | Sun | Mon | Tue | Wed | Thu | Fri | Sat | Sun | Mon | Tue | Wed | Thu | Fri | Sat | Sun | Mon | Tue | Wed | Thu | Fri | Sat | Sun | Mon | Tue | Wed | Thu | Tue | Wed | Thu | Fri | Tue | Wed | Thu | Fri | Sat | Sun | Mon | Tue | Wed | Thu | Fri | Sat | Sun | Mon | Tue | Wed | Thu | Fri | Sat | Sun | Mon | Wed | Thu | Fri | Sat | Sun | Mon | Tue | Wed | Sun | Mon | Tue | Wed | Thu | Fri | Sat | Sun | Mon | Tue | Wed |
| --- | --- | --- | --- | --- | --- | --- | --- | --- | --- | --- | --- | --- | --- | --- | --- | --- | --- | --- | --- | --- | --- | --- | --- | --- | --- | --- | --- | --- | --- | --- | --- | --- | --- | --- | --- | --- | --- | --- | --- | --- | --- | --- | --- | --- | --- | --- | --- | --- | --- | --- | --- | --- | --- | --- | --- | --- | --- | --- | --- | --- | --- | --- | --- | --- | --- | --- | --- | --- | --- | --- |
| | | | | | | | | | | | | | | | | | | | | | | | | | | | | | | | | | | | | | | | | | | | | | | | | | | | | | | | | | | | | | | | | | | | | | | |
| occupied by 2 persons | € 539 | € 519 | € 488 | € 488 | € 488 | € 488 | € 488 | € 488 | € 488 | € 488 | € 488 | € 488 | € 488 | € 488 | € 488 | € 488 | € 488 | € 488 | € 488 | € 488 | € 488 | € 488 | € 488 | € 498 | € 498 | € 498 | € 700 | € 700 | € 710 | € 710 | € 508 | € 508 | € 508 | € 497 | € 497 | € 497 | € 497 | € 497 | € 497 | € 497 | € 497 | € 497 | € 497 | € 497 | € 497 | € 497 | € 497 | € 497 | € 536 | € 584 | € 622 | € 699 | € 747 | € 785 | € 785 | € 785 | € 785 | € 747 | € 699 | € 497 | € 497 | € 497 | € 497 | € 497 | € 497 | € 497 | € 497 | € 497 | € 497 | € 497 |
| occupied by 1 person | € 539 | € 519 | € 488 | € 488 | € 488 | € 488 | € 488 | € 488 | € 488 | € 488 | € 488 | € 488 | € 488 | € 488 | € 488 | € 488 | € 488 | € 488 | € 488 | € 488 | € 488 | € 488 | € 488 | € 498 | € 498 | € 498 | € 700 | € 700 | € 710 | € 710 | € 508 | € 508 | € 508 | € 497 | € 497 | € 497 | € 497 | € 497 | € 497 | € 497 | € 497 | € 497 | € 497 | € 497 | € 497 | € 497 | € 497 | € 497 | € 536 | € 584 | € 622 | € 699 | € 747 | € 785 | € 785 | € 785 | € 785 | € 747 | € 699 | € 497 | € 497 | € 497 | € 497 | € 497 | € 497 | € 497 | € 497 | € 497 | € 497 | € 497 |
| | | | | | | | | | | | | | | | | | | | | | | | | | | | | | | | | | | | | | | | | | | | | | | | | | | | | | | | | | | | | | | | | | | | | | | |
| occupied by 3 persons | € 339 | € 319 | € 306 | € 306 | € 306 | € 306 | € 306 | € 306 | € 306 | € 306 | € 306 | € 306 | € 306 | € 306 | € 306 | € 306 | € 306 | € 306 | € 306 | € 306 | € 306 | € 306 | € 306 | € 306 | € 306 | € 306 | € 508 | € 508 | € 518 | € 518 | € 325 | € 325 | € 315 | € 315 | € 315 | € 315 | € 315 | € 315 | € 315 | € 315 | € 315 | € 315 | € 315 | € 315 | € 315 | € 315 | € 315 | € 315 | € 354 | € 402 | € 440 | € 517 | € 555 | € 603 | € 603 | € 603 | € 603 | € 555 | € 517 | € 315 | € 315 | € 315 | € 315 | € 315 | € 315 | € 315 | € 315 | € 315 | € 315 | € 315 |
| occupied by 2 persons | € 339 | € 319 | € 306 | € 306 | € 306 | € 306 | € 306 | € 306 | € 306 | € 306 | € 306 | € 306 | € 306 | € 306 | € 306 | € 306 | € 306 | € 306 | € 306 | € 306 | € 306 | € 306 | € 306 | € 306 | € 306 | € 306 | € 508 | € 508 | € 518 | € 518 | € 325 | € 325 | € 315 | € 315 | € 315 | € 315 | € 315 | € 315 | € 315 | € 315 | € 315 | € 315 | € 315 | € 315 | € 315 | € 315 | € 315 | € 315 | € 354 | € 402 | € 440 | € 517 | € 555 | € 603 | € 603 | € 603 | € 603 | € 555 | € 517 | € 315 | € 315 | € 315 | € 315 | € 315 | € 315 | € 315 | € 315 | € 315 | € 315 | € 315 |
| | | | | | | | | | | | | | | | | | | | | | | | | | | | | | | | | | | | | | | | | | | | | | | | | | | | | | | | | | | | | | | | | | | | | | | |
| | | | | | | | | | | | | | | | | | | | | | | | | | | | | | | | | | | | | | | | | | | | | | | | | | | | | | | | | | | | | | | | | | | | | | | |