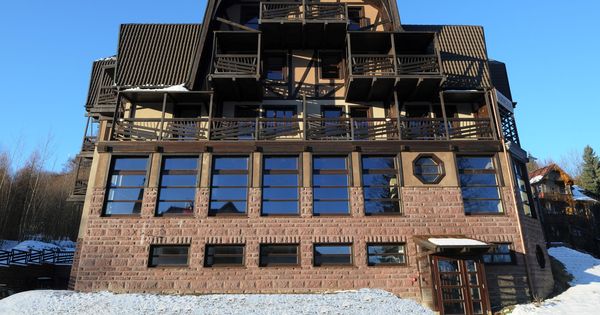 Included Services
Accommodation as booked
Board as booked
Cross-country and ski equipment
Use of spa area (as per description)
Use of fitness room
Bathrobe hire
Christmas and New Year's Eve menu
Wifi
Internet corner
Safe
Parking spaces (upon availability)

Snow Guarantee

Nice-Price Guarantee
Location and Facilities
The 3-star Hotel Sudetia is a stylish buildings located only around 250 m away from the centre of Świeradów-Zdrój (German: Bad Flinsberg) and in y beautiful position on the mountain slope. The next lift and a cross-country track can be reached after approx. 2 km. The house offers a reception with lobby, lift, Wifi and Internetcorner (incl.), common and reading room, restaurant, bar, café, ski room and terrace.
The fitness room, indoor pool, sauna, relaxation room and saline bubble bath can be used for free, the beauty centre and massages for a fee. Parking spaces are available at the hotel and can be used free of charge..
Rooms
The cosy rooms have a shower/wc, satellite TV, telephone, radio, hair drier, Wifi (incl.), safe as well as a balcony or terrace.
Board
The holiday price includes half board with a breakfast buffet, cakes in the afternoon and a buffet for dinner. On Christmas Eve, Santa Claus will bring along some little gifts.
Available in the resort (for free)
Accommodation as booked
Board as booked
Cross-country and ski equipment
Use of spa area (as per description)
Use of fitness room
Bathrobe hire
Christmas and New Year's Eve menu
Wifi
Internet corner
Safe
Parking spaces (upon availability)
Payable at the resort
Tourist tax: approx. € 0,75 per person/night
Offers
When accommodating 1 persons paying the full holiday price in a Single room/addl. bed, shower/wc, HB, further holiday participants receive: until (incl.) 6 years 100%
7-12 years 50%
13-16 years 30%
When accommodating 2 persons paying the full holiday price in a Double room/addl. bed, shower/wc, HB, further holiday participants receive: until (incl.) 3 years 100%
4-7 years 50%
8-12 years 20%
7 nights (all prices are per-person)
| Date Of Arrival | Wed | Thu | Fri | Sat | Sun | Mon | Sat | Tue | Wed | Thu | Fri | Sat | Sun | Mon | Tue | Wed | Thu | Fri | Sat | Sun | Mon | Tue | Wed | Thu | Fri | Sat | Sun | Mon | Tue | Wed | Thu | Fri | Sat | Sun | Mon | Tue | Wed | Thu | Fri | Sat | Sun | Mon | Tue | Wed | Thu | Fri | Sat | Sun | Mon | Tue | Wed | Thu | Fri | Sat | Sun | Mon | Tue | Wed | Thu | Fri | Sat | Sun | Mon | Tue | Wed | Thu | Fri | Sat | Sun | Mon | Tue | Wed | Thu | Fri | Sat | Sun | Mon | Tue | Wed | Thu | Fri | Sat | Sun | Mon |
| --- | --- | --- | --- | --- | --- | --- | --- | --- | --- | --- | --- | --- | --- | --- | --- | --- | --- | --- | --- | --- | --- | --- | --- | --- | --- | --- | --- | --- | --- | --- | --- | --- | --- | --- | --- | --- | --- | --- | --- | --- | --- | --- | --- | --- | --- | --- | --- | --- | --- | --- | --- | --- | --- | --- | --- | --- | --- | --- | --- | --- | --- | --- | --- | --- | --- | --- | --- | --- | --- | --- | --- | --- | --- | --- | --- | --- | --- | --- | --- | --- | --- | --- | --- | --- |
| | | | | | | | | | | | | | | | | | | | | | | | | | | | | | | | | | | | | | | | | | | | | | | | | | | | | | | | | | | | | | | | | | | | | | | | | | | | | | | | | | | | | |
| occupied by 2 persons | € 306 | € 306 | € 306 | € 296 | € 296 | € 296 | € 296 | € 306 | € 306 | € 306 | € 306 | € 316 | € 325 | € 335 | € 345 | € 354 | € 364 | € 373 | € 373 | € 373 | € 363 | € 363 | € 363 | € 363 | € 363 | € 363 | € 363 | € 364 | € 364 | € 364 | € 364 | € 364 | € 364 | € 354 | € 354 | € 354 | € 354 | € 354 | € 354 | € 354 | € 354 | € 354 | € 354 | € 354 | € 354 | € 354 | € 354 | € 364 | € 364 | € 364 | € 364 | € 364 | € 364 | € 364 | € 383 | € 412 | € 402 | € 393 | € 383 | € 374 | € 364 | € 325 | € 296 | € 296 | € 296 | € 296 | € 286 | € 286 | € 286 | € 286 | € 286 | € 286 | € 286 | € 286 | € 286 | € 286 | € 286 | € 286 | € 286 | € 286 | € 286 | € 286 | € 286 | € 286 |
| occupied by 1 person | € 306 | € 306 | € 306 | € 296 | € 296 | € 296 | € 296 | € 306 | € 306 | € 306 | € 306 | € 316 | € 325 | € 335 | € 345 | € 354 | € 364 | € 373 | € 373 | € 373 | € 363 | € 363 | € 363 | € 363 | € 363 | € 363 | € 363 | € 364 | € 364 | € 364 | € 364 | € 364 | € 364 | € 354 | € 354 | € 354 | € 354 | € 354 | € 354 | € 354 | € 354 | € 354 | € 354 | € 354 | € 354 | € 354 | € 354 | € 364 | € 364 | € 364 | € 364 | € 364 | € 364 | € 364 | € 383 | € 412 | € 402 | € 393 | € 383 | € 374 | € 364 | € 325 | € 296 | € 296 | € 296 | € 296 | € 286 | € 286 | € 286 | € 286 | € 286 | € 286 | € 286 | € 286 | € 286 | € 286 | € 286 | € 286 | € 286 | € 286 | € 286 | € 286 | € 286 | € 286 |
| | | | | | | | | | | | | | | | | | | | | | | | | | | | | | | | | | | | | | | | | | | | | | | | | | | | | | | | | | | | | | | | | | | | | | | | | | | | | | | | | | | | | |
| occupied by 3 persons | € 258 | € 258 | € 258 | € 248 | € 248 | € 248 | € 248 | € 258 | € 258 | € 258 | € 258 | € 268 | € 278 | € 277 | € 287 | € 297 | € 296 | € 306 | € 306 | € 306 | € 306 | € 296 | € 296 | € 296 | € 296 | € 296 | € 296 | € 296 | € 296 | € 296 | € 296 | € 296 | € 296 | € 296 | € 296 | € 296 | € 296 | € 296 | € 296 | € 296 | € 296 | € 296 | € 296 | € 296 | € 296 | € 296 | € 296 | € 296 | € 296 | € 296 | € 296 | € 296 | € 296 | € 296 | € 316 | € 335 | € 325 | € 326 | € 316 | € 306 | € 306 | € 277 | € 248 | € 248 | € 248 | € 248 | € 248 | € 238 | € 238 | € 238 | € 238 | € 238 | € 238 | € 238 | € 238 | € 238 | € 238 | € 238 | € 238 | € 238 | € 238 | € 238 | € 238 | € 238 |
| occupied by 2 persons | € 258 | € 258 | € 258 | € 248 | € 248 | € 248 | € 248 | € 258 | € 258 | € 258 | € 258 | € 268 | € 278 | € 277 | € 287 | € 297 | € 296 | € 306 | € 306 | € 306 | € 306 | € 296 | € 296 | € 296 | € 296 | € 296 | € 296 | € 296 | € 296 | € 296 | € 296 | € 296 | € 296 | € 296 | € 296 | € 296 | € 296 | € 296 | € 296 | € 296 | € 296 | € 296 | € 296 | € 296 | € 296 | € 296 | € 296 | € 296 | € 296 | € 296 | € 296 | € 296 | € 296 | € 296 | € 316 | € 335 | € 325 | € 326 | € 316 | € 306 | € 306 | € 277 | € 248 | € 248 | € 248 | € 248 | € 248 | € 238 | € 238 | € 238 | € 238 | € 238 | € 238 | € 238 | € 238 | € 238 | € 238 | € 238 | € 238 | € 238 | € 238 | € 238 | € 238 | € 238 |
| | | | | | | | | | | | | | | | | | | | | | | | | | | | | | | | | | | | | | | | | | | | | | | | | | | | | | | | | | | | | | | | | | | | | | | | | | | | | | | | | | | | | |
| | | | | | | | | | | | | | | | | | | | | | | | | | | | | | | | | | | | | | | | | | | | | | | | | | | | | | | | | | | | | | | | | | | | | | | | | | | | | | | | | | | | | |